This post may include affiliate links. See our full disclosure.
Do you know what delight-directed learning is? You can read all about it in a previous Homeschool Methods and Approaches post by my friend, Marcy. 
Today, I'm going to bring you something that's a little bit on the lighter side. Reasons why you SHOULD consider delight-directed learning as well as reasons why you should NOT consider delight-directed learning.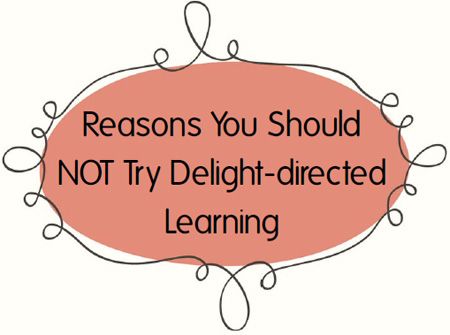 This could also be titled ~ Reasons Why You Should Run Far, Far Away from This Unpopular Homeschool Method.
1. A nice and tidy schedule telling you where school stops and starts each day is one of your favorite things.
2. Covering every single thing on the core standards chart is extremely important to you.
3. You love to plan ahead. You already have your curriculum mapped out for 2018.
4. Your kids adore sitting at desks with workbooks.
5. You break out in hives at the thought of letting your children choose what to learn about.
So, you get it. The delight-directed method isn't for those who love textbooks, workbooks, and all forms of school-y-ness. Well, who is it for? It's for those who are willing to give their students some freedom; for those who want to instill an intense love for learning. So, delight-directed might be the method for you if . . .
1. Unschooling is appealing to you, but it scares you a little and you want a bit more structure.
2. You want your kids to understand how science, history, geography, art, and music are connected. 
3. The whining, crying, and arguing over and about school is exhausting. You want your kids to want to learn!
4. You want your kids to remember what they learn.
5. The idea of self-motivated students, great researchers, and independent learners is enticing.
Did any of those reasons make you squint your eyes, stroke your chin, and want to read more? If so you can check out these posts on my blog, Walking by the Way:
What Does a Delight Directed Study Look Like?
Free Tools for Delight Directed Studies
Questions and Answers about the Delight Directed Approach
God's grace runs wild through her life, and she asks daily for {more} grace as she walks by the way with her two boys, Elijah and Simon.  She makes sure her kids read oodles of living books, get-out-and-get-the-stink-off with frequent field trips, and have plenty of time to explore their interests–keeping them exceptionally curious. She chronicles her homeschooling adventures {and disasters} at Walking by the Way. Facebook page: http://www.facebook.com/walkingbytheway
More from the Homeschool Methods and Approaches Series…